Permaculture Inspired Sustainability Series 2012-13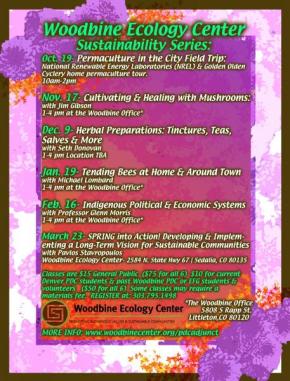 Oct. 19- Permaculture in the City field Trip: National Renewable Energy Laboratories (NREL) & Golden Olden Cyclery home permaculture tour.
10am-2pm
We'll tour the National Renewable Energy Laboratory Visitor Center in Golden at 15013 Denver West Parkway Golden CO 80401. Then we will head a few miles over to Steve Stevens' house (Golden Oldy Cyclery) for a tour of his living museum: a "Net Zero Energy" home & old-time bicycle museum.
Nov. 17- Cultivating & Healing with Mushrooms
Discover and explore the world of Fungi in a whole new light.
with Jim Gibson, Permaculturist & President of the Colorado Mycological Society
1-4 pm at the Woodbine Office*
Dec. 9- Herbal Preparations: Tinctures, Teas, Salves & More
with Seth Donovan
Please Register: 303-795-1498
1-4 pm at the Woodbine Office*
Jan. 19- Tending Bees at Home & Around Town
with Michael Lombard
1-4 pm at the Woodbine Office*
Feb. 16- Indigenous Economics and Decision-Making Processes
Join us as we explore indigenous economic systems and decision making with Robert Chanate. We will explore how these models might work well today, especially as we move to create a more sustainable society, turning away from an industrial growth society.
Please Register: 303-795-1498
1-4 pm at the Woodbine Office*
March 30- SPRING into Action: Developing & Implementing a Long-Term Vision for Sustainable Communities with Pavlos Stavropoulos.
At Woodbine Ecology Center- 2584 N. State Hwy 67 | Sedalia, CO 80135
Classes are $15 General Public, $10 for current Denver PDC students & past Woodbine PDC or EFG students & volunteers. Some classes may require a materials fee.
The Woodbine Office is Located at 5808 S Rapp St Ste115, Littleton, CO 80120
Please Register: 303-795-1498