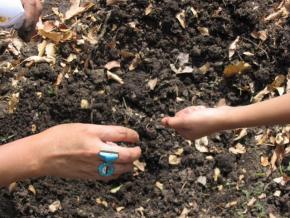 Woodbine Ecology Center is a community-based organization. Simply put, we are our community. There are many ways to be involved in Woodbine, and we invite you to work with us to make a better world—not only for us, but for seven generations to come.
Woodbine volunteers are essential to fulfilling the mission of developing egalitarian, self-reliant, and sustainable ways of living. We invest considerable resources in our volunteers in terms of time and training, and we look for volunteers who are sincere in their desire to make a meaningful contribution and who work well with others. That said, we do have a wide range of opportunities—anything from helping with parking at special events to ongoing leadership roles in the community working groups. Registered Volunteers can also receive discounts to our programs and participate in volunteer-only events and trainings. To become a Registered Volunteer please contact our office for an application.
Click here for internship opportunities.
Woodbine is looking for volunteers now in the following areas:
General Topic Areas:
Indigenous Agriculture
Permaculture
Community Composting
Eco-forestry
Watershed Restoration
Traditional Ecological Knowledge
Art and Graphic Design
Content Development
Truth and Reconciliation
Zero Waste
Community Outreach
Environmental Education
One Day Activities:
Painting
Trail clearing
Fence-building
Minor carpentry
Pond cleaning
Garden tending
Facility grounds maintenance
On-Going Activities:
Tours and trail guides
Event set-up
Outdoor workshops
Ecological inventory
Historical displays
Resource Library
If none of the above seem like a good fit for you, don't fret. New opportunities are always arising. To learn more about volunteer opportunities at Woodbine, please contact us and tell us a little bit about yourself, what you like to do, and what you have to offer.